Members first. Every day. That's the power of co-op membership. It means not-for-profit electric cooperatives deliver energy to its members at the cost of service, unlike investor-owned utilities that typically distribute its profits to investors across the nation or even the world – not necessarily to those it serves.

Your Touchstone Energy Cooperative
Seven Cooperative Principles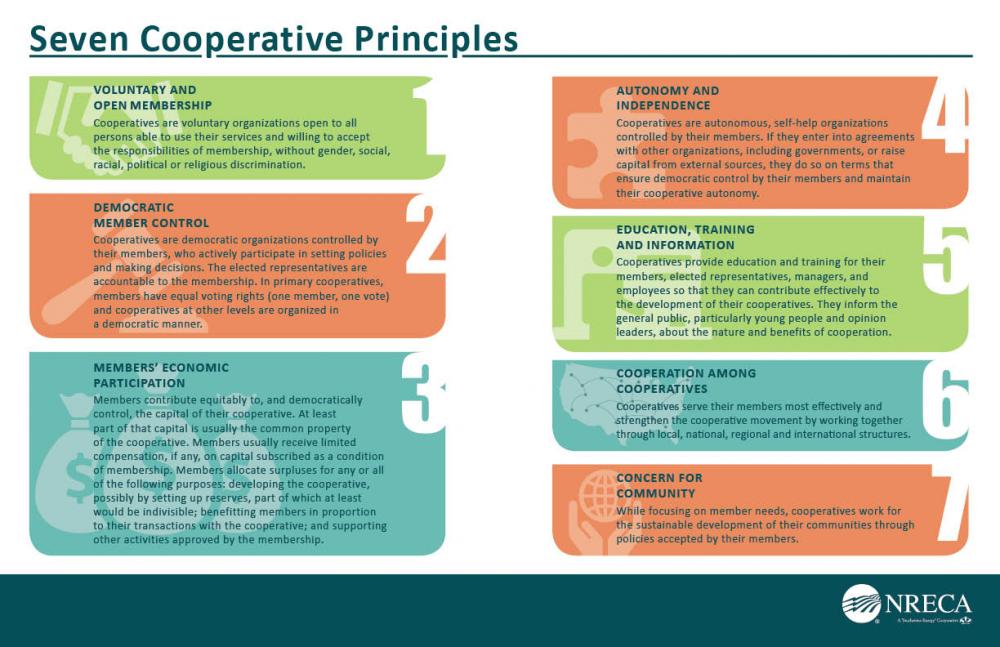 Seven Cooperative Principles

Seven Cooperative Principles Video 
 
The Seven Cooperative Principles
1. Open and Voluntary Membership.
Because cooperatives are voluntary organizations, membership is open
to all persons able to use their services and willing to accept the responsibilities
of membership, without gender, social, racial, political or religious discrimination.
2. Democratic Member Control.
Members have equal voting rights. It doesn't matter how much electricity
a member consumes. When it comes to electing directors, each member has one vote.
3. Member Economic Participation.
Members contribute equitably to the capital of their cooperative.
At least part of that capital is usually the common property of the cooperative.
4. Autonomy and Independence.
Cooperatives are autonomous, self-help organizations, controlled by their members.
If they enter into agreements with other organizations, including governments,
or raise capital from external sources, they do so on terms that ensure democratic control
by their members and maintain their cooperative autonomy.
5. Education, Training and Information.
New challenges and new technologies affect your cooperative and the entire utility industry.
Ensuring our continuing effectiveness can only be accomplished by providing information
and training to the members and public, our employees, staff and directors.
6. Cooperation Among Cooperatives.
We are "working together, working for you," on many levels. Cooperatives serve their members
most effectively and strengthen the co-op movement by participating in local, state, regional,
national and international cooperative organizations.
7. Concern for Community.
Cooperatives work for the sustainable development of their communities
through policies accepted and supported by their members.
Freeborn Mower Electric Cooperative  (FMEC) has a long history of success as a local electric provider. We are a member-owned electric cooperative providing energy to over 18,000 members-owners primarily located in Freeborn and Mower Counties in Southeast Minnesota. Our service area covers approximately 1,335 square miles, which includes 2,950 miles of distribution line and 27 substations.
We are proud to be a Touchstone Energy Cooperative serving our members with integrity, accountability, innovation and commitment to excellent customer service, outstanding value and innovative services designed to meet your changing needs. As a national alliance of electric cooperatives, we are part of the largest electric utility network in the nation, providing power to over 40 million member-owners in 47 states, and serving more than 80% of the geographic area of the U.S.
Our electric energy is supplied by Dairyland Power Cooperative. Dairyland supplies the wholesale electric requirements of 25 electric distribution cooperatives and 14 municipal utilities. These utilities in turn sell energy at retail to nearly half a million people in a five state service area. Dairyland Power is owned by FMEC and 25 other electric distribution cooperatives.
Local ownership and a deep sense of accountability to our member-owners and communities are key aspects to meeting your energy needs - not just today, but for many years to come.
What sets us apart from other electric companies is:
We're owned by the members we serve

We're operated by local management and employees

We're a not-for-profit organization

Our members contribute to and control the capital of the organization

We return profits above expense, to our members

Organized under the Seven Cooperative Principles
We've been part of the community for over 84 years.


Freeborn-Mower Cooperative Service Territory